Luxury apartments in the heart of Szczecin
Location in the city center
A new tenement house
Monitored, underground parking
Free Wifi
Cleaning service
Kitchenette
How to get from Park Hotel to Park Apartments: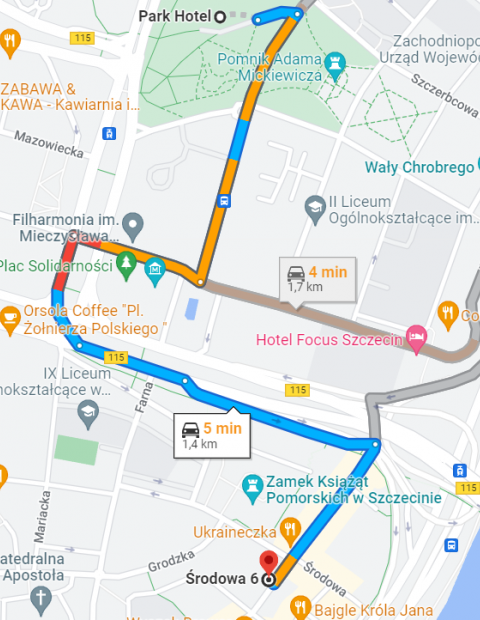 APARTMENTS EVEN NICER THAN IN THE PICTURES
Apartments even nicer than in the pictures, swimming pool and sauna area at the price of accommodation, very pleasant service, great location and very attractive price! I recommend 100%, for sure we will come back here ;)
Klaudia, Booking.com
THE LOCATION IS IDEAL
The location is ideal. The apartment is new and fresh, good furniture. Big plus with parking in the garage in the same building. Helpful and courteous staff.
Dila, Booking.com
I WILL SURELY USE THIS APARTMENT AGAIN
Apartment on a very high level. Beautifully furnished. Parking in the same building. Location very good.
Sebastian, Booking.com
MEGA SPACE
Better than in a hotel where a thousand people turn around in the corridor, I felt like at home, only on the way out.
Damian, Booking.com
HIGHLY RECOMMENDED
Very chic apartment, centrally located (all sights are within walking distance, close to a nice square with restaurants and cafes and a small supermarket which is open every day until 11pm). Very nice furnished and very comfortable bed. With balcony and well equipped kitchen. Perfect for a short holiday in Szczecin :)
Anna, Booking.com
PERFEKT!!!
A super chic apartment in a good location. For two adults and a toddler it was more than ideal! Underground car park must be booked in addition! Everything was perfectly clean and everything worked well. Perfect check in via Park Hotel, easy check out -> key in the mailbox. Unrestrictedly recommended!
Christoph, Booking.com